Wordyisms.com Framing Gift Certificate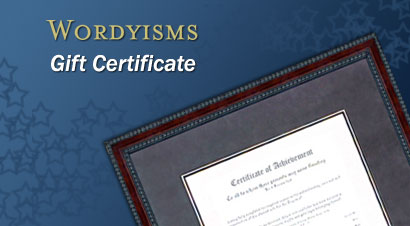 Product Details
SKU: gift

Allow the recipient of this gift to choose the perfect way to display and preserve their memories.
If uncertain about an appropriate gift certificate denomination, as a guideline, shipping and handling typically adds about $14 per frame to the price of the order.
Immediately following purchase, you (and an optional recipient) will receive an email with a link to a printable certificate with a unique code.
Simply enter the code at checkout to redeem the certificate. Certificates may be used online, over the phone, or in-store.
Gift certificate codes never expire, there are no fees, and any unused balance is saved for subsequent visits.
Gift certificates are not redeemable for cash.