Wordyisms Signature Diploma Frame with Inlaid Wood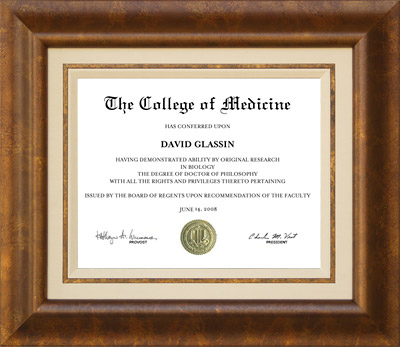 Product Details
SKU: signature2

A beautiful bronze tone frame borders a hand wrapped Pongee silk liner with custom matched inlaid wood.
Approximate outer dimensions of the frame are your diploma size plus four and one half inches per side.
Frame corners are hand fitted and filled.
The reverse of the frame is fully lined with black suede, and all backing boards are made from inert, acid-free, museum-quality conservation materials.
The UV filtering acrylic is located between the frame and liner. This assures that your silk liner remains clean and floats the acrylic above your diploma. Only 4-ply acid-free conservation mat board will ever touch your diploma.
A beautiful addition to your office, study, library, or wherever you showcase your memories and achievements.
Each Wordyisms signature frame is numbered and initialed on the verso by the craftsman who created it.
Simple instructions for inserting your diploma are enclosed. No tools are required.
Exceeds Library of Congress standards for document preservation.
Environmentally conscious construction and packaging. Your purchase helps support the Global ReLeaf Forest Foundation which has planted over 250,000 trees.
Hand made in the USA by experienced custom picture framers. Wordyisms is a member of the Professional Picture Framers Association and a supporter of FACTS (Fine Art Care Treatment Standards).
Acrylite OP3 non-tinted UV filtering acrylic is standard, offering protection from harmful UV rays that can damage and discolor paper. This frame may be displayed in naturally lighted rooms without worry of fading your diploma.
All Signature Series frames feature free shipping.
Please note: This frame requires that any printing on the diploma be 1/2 of an inch or more from the edge of the diploma.
As with all of our products, your complete satisfaction is our top priority.