Texas A&M Diploma Frame with Maroon Suede Mat & Gold Embossing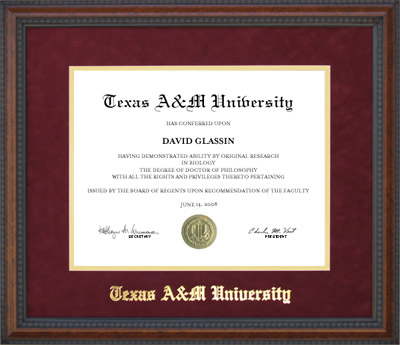 Product Details
SKU: tx-tama2

Burl finish diploma frame from the Larson-Juhl Vienna Collection of fine art moldings.
Approximate outer dimensions are 18.5 x 21.5 inches, but will vary based on your diploma size and orientation. Image is for illustration only.
Acid-free Crescent Bordeaux maroon suede mat embossed with gold "Texas A&M University" over acid-free gold under mat.
This product is officially licensed and a portion of the proceeds are returned to Texas A&M.
Acid-free corner pockets are included with every frame along with simple instructions for inserting your diploma. No tools are required.
Exceeds Library of Congress standards for document preservation.
Environmentally conscious construction and packaging. Your purchase helps support the Global ReLeaf Forest Foundation which has planted over 250,000 trees.
Hand made in the USA by experienced custom picture framers. Wordyisms is a member of the Professional Picture Framers Association.
Shatter resistant Optix acrylic is safer and lighter than glass. It filters 80% of UV rays (which can cause documents to fade) while comparable glass filters only 45%. An upgrade to 99% UV filtering UF5 acrylic is available for hanging in brightly lit areas.