Sam Houston Cherry Diploma Frame with Embossed Suede Mat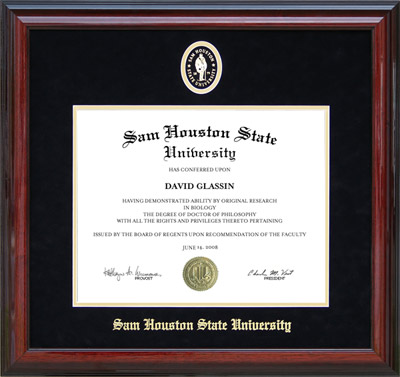 Product Details
SKU: tx-shse

Gloss mahogany frame from the Studio Moulding honors collection.
Environmentally conscious construction and packaging. Your purchase helps support the Global ReLeaf Forest Foundation.
This product is officially licensed and a portion of the proceeds are returned to Sam Houston State.
Approximate outer dimensions are 20.75 x 22 inches, but will vary based on your diploma size and orientation. Image is for illustration only.
Acid-free Crescent black mat with embossed 'Sam Houston State University' name line and school seal.
All hardware required for hanging your frame is included, along with acid-free fasteners and simple instructions for inserting your diploma. No tools are required.
Exceeds Library of Congress standards for document preservation.
Hand-made one at a time in the USA by experienced custom picture framers. Wordyisms is a member of the Professional Picture Framers Association.
Shatter resistant Acrylite acrylic is safer and lighter than glass. It filters 65% of UV rays (which can cause documents to fade) while comparable glass filters only 45%. An upgrade to 98% UV filtering acrylic is available for hanging in brightly lit areas.